Halloween will be here in just 2 1/2 weeks and if you haven't bought your costume then you need to check out the really great looking ones at Eden Fantasys. I bet you thought Eden Fantasys didn't sell costumes, didn't you? Well, they do and not only are they made well but their price for the costumes are so much cheaper than any of the Halloween specialty stores I have ever seen.
Check out this really darling costume. It comes with a dress, corset, head scarf, pouch & sword, all for the low price of $40.79--it and all other costumes are on sale for 20% off.
How about dressing up as Red Riding Hood? Eden Fantasys has this really cute costume too.
This costume comes with a dress with front ribbon lacing, apron, cropped capelet, and hood and tie. This cute costume is on sale for $37.59.
Eden Fantasys has a big selection of costumes to choose from. They have Nurse Uniforms, Race Car Girls, Gypsys, Bunnies, School Girls and more.
One thing that I really like about Eden Fantasys costumes are that the one you see pictured and order, is the one you will get. The website also shows which costumes are available and in what size. No more wondering when it will be in your mailbox only to find out that the company was out of your size the whole time. Eden Fantasys states all the needed info beside the product so you will know what you need to know before you order it.
Some of Edens costumes are more provocative than others. and some are more simple. Whichever you like, Eden Fantasys is most likely going to have it listed, with pictures, on the website.
After Halloween you can still wear the costume for you and your mate's on pleasure. So for a small price the costume you chose for Halloween can be used over and over between you and your mate.
Why not hurry up and check out all the costumes Eden Fantasys has? You don't have very long to get yours ordered before Halloween is here. Another plus when ordering from Eden is, they ship your product(s) super fast. I usually get my order within 4 business days from after the day I ordered it.
I really recommend you looking at Eden Fantasys for all your wants and needs. I have always been pleased with what I ordered.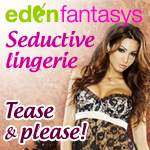 *Thanks to Eden Fantasys for allowing me to review for them.
*The opinions of these products sre dtrictly my own.